Should exterior trim be lighter or darker?
How to Choose Exterior Trim Colors
The ideal exterior trim color will depend on the look you want to achieve. Monochromatic siding and trim create a subdued, elegant quality, while a high-contrast color scheme can give your exterior depth and interest. Black exterior trim on a white house, for example, emphasizes architectural features for a more modern look.
For homes with darker siding, such as brown or charcoal gray, white trim is always a good option. Bright white can make other colors appear more vibrant, so it's perfect for highlighting a vibrant front door. If you prefer a bright, colorful look, consider choosing a complementary color for your exterior trim, such as yellow trim against blue siding. These shades are opposite each other on the color wheel, so the effect is energizing and dynamic yet still pleasing to the eye.
To create a subtler contrast, choose an exterior trim color that's a few shades lighter or darker than your siding color. Combining shades from the same color family highlights your home's architectural details without going too bold. For example, if your siding is off-white, try painting your exterior trim a light tan or taupe. This tonal look works especially well on traditional-style homes where a bright splash of color might look out of place. When in doubt, earth tones, such as browns and greens, are usually a safe bet for exterior trim colors, as they can help your home blend in with its natural surroundings.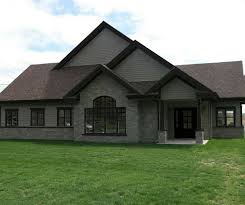 Choose High or Low Contrast for Your Exterior Trim
Your house's trim can either blend in with your siding, or stand out and create an entirely different look. If you're looking for a muted color that will have a low contrast with the rest of your exterior, look at colors that are within the same color family as your existing (or planned) exterior.
For example, if your home is a dark grey, using taupe for your trim can add some color without creating a strong contrast. This subtle difference between the walls and trim prevents it from falling flat without making the exterior trim very evident.
Use a Monochromatic Finish for Your Home's Exterior Trim
A monochromatic color palette is considered different shades of one hue. So if you have a dark grey exterior with light grey exterior trim, that would be considered a monochromatic palette.
You can also achieve a monochromatic exterior for your home with one color, but with different finishes. If the entire exterior is painted a matte grey, it could fall flat. Instead, reserve the matte finish for the siding or brick, and choose a glossy finish for the shutters and doors.
Determine Neutral Tones or Bold Colors for Your Exterior Trim
One way to create a unique exterior for your home is painting your trim a color. You could choose either neutral tones or bold colors to complement the primary color for your exterior.
A neutral color is a great way to introduce color to your home's exterior without a stark contrast. This could be a neutral like olive green that adds color without being too overwhelming, and can complement the rest of your home. Earthy tones are common in home exteriors, as they blend well and maintain a classic feel.
Using Your Home's Style to Find Your Colors
We've written about your home's interior style when painting before, but you can also bring in your desired style when choosing your exterior paint color. If you'd like a classic look for your home, a tan or grey exterior with a red door is the perfect choice.
If you love a vintage style or are looking for something unique, your home's exterior trim can accomplish that. This home's blue accents are reminiscent of the mid 1900s, and creates an exterior that gives your guests a peek of what's inside.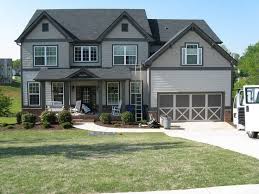 The Do's and Don'ts of Choosing a New House Color
When it comes to picking exterior paint colors, there are a number of things to consider before making a final decision. Here are some basic do's and don'ts to help you choose the perfect color—or colors—for your dream home.
DO: Consider Colors
Many homeowners worry that a unique color scheme will end up costing more, but fortunately that's not the case! Applying a little imagination to the selection process won't stress your wallet any more than choosing a neutral shade would—so why not have a little fun?
DO: Take a Hint
Notice what colors exist on your exterior that cannot be changed—the dark gray flecks in your brick, for instance, or that blue cast in your roofing shingles. A cohesive color scheme will take into account these unchangeable shades.
DO: Accent
Add character and charm by painting your window trim and architectural details in a contrasting accent color. And don't forget that you can also use color to emphasize your entryway.
DON'T: Misplace the Accent
Accenting is great, but only when used to highlight the more attractive elements of your home. Avoid drawing attention to drab features like gutters, air conditioning units, or unevenly placed windows.
DO: Consider Trends
Trends in exterior paint move at a snail's pace. The color you choose today is very likely to still be in style tomorrow, or ten years from tomorrow. White used to be the "safe" choice, but more and more homeowners are experimenting with color and tinted neutrals. Tour a few neighborhoods to get a sense of what others are opting for.
DON'T: Ignore the Neighbors
While it's a good idea to get creative, it's usually a bad idea to pick colors that will clash with your neighbors' exteriors. You can always stand out, but try to do so in an unobtrusive way!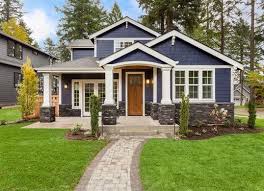 Final Coat
Every color choice must be tried out on the house – don't ever buy a gallon of paint from the color chip alone! Most paint stores offer quarts of paint at reasonable prices so you can try out several colors or color combinations before you commit to a scheme.
Get a couple of paint decks (those color wheels that fan out) from a couple of paint manufacturers to get started. Narrow your choices down to two or three paint schemes, then buy a quart of each color – AND a quart of several other colors that are nearby on the color strips.
What are the most common mistakes homeowners make when choosing exterior paint colors?
Assuming that a colorful and imaginative color scheme will cost a great deal more for product and labor. Unless the scheme is a "painted lady" with numerous colors, this is rarely the case. Accenting unattractive elements such as gutters, downspouts, a protruding garage door, air conditioning units, unevenly placed windows, etc.
Ignoring neighboring houses: your color scheme choice should not clash with the neighbor's house — it's a lose-lose situation. Choose a scheme that blends with the neighborhood or stands out in a subtle, unobtrusive manner. Landscaping counts: consider tress that change color, flowering shrubs, flower gardens when selection colors, for compatibility. Heavily wooded lots will make colors look darker due to shade; also could camouflage homes, so attention to detail is needed. Greens are not a good choice in this situation.