Tile Roofing
In some areas of the country, tile roofing is quite common. Its distinctive appearance can be seen sparsely in many regions, but in the Southwest, tile roofing is practically a part of the landscape, giving a unique and identifiable look to the area. Tile roofs are initially a lot more costly to install than asphalt shingle, metal, or wood shake roofs, but they also last much longer. Depending on the quality, a tile roof may last 50 to 70 years–or even more! When you compare that kind of longevity to the durability of some asphalt shingles (in some situations, only 10 or 15 years), it's easy to see how an investment in tile can pay off in the long run.
Characteristics of Tile Roofing
Traditional clay tile roofs are very heavy, and sometimes require more structural reinforcement than other roofing materials. However, tile is now offered in new lightweight versions which can be used on most structures without additional reinforcement.
While many homeowners prefer the look of traditional Spanish and Mediterranean styles, tile roofing is also available in exact replications of shake, wood shingle, and slate. It can be found in a wide spectrum of colors, ranging from the well-known adobe red to colors that are reminiscent of moss green, driftwood grey, and ocean blue.
Benefits of Tile Roofs
Aside from the obvious aesthetic appeal and incredibly long life expectancy of tile roofs, there are several other benefits of choosing this material over a less costly one. To start with, tile roofs perform better under harsh conditions than many other roofing materials. They resist damage caused by hurricanes, earthquakes, and other weather extremes better than most other options. Roof tile is also fireproof, and carries a class-A rating.
Tile roofing is a great insulator, which helps to keep homes warmer in winter and cooler in summer. Accessories for tile roofs are widely assorted, including bird stops, cloaked attic vents, hip starters, apexes, and multiple other options. Tile also has the unique ability of being able to accent or complement the exterior color or finish of practically any home or building.
Even more attractive than its outward appearance is the fact that tile gives an air of quality to a structure that can be very appealing to prospective buyers. When combined with the range of styles and finishes, a tile roof not only adds to the beauty of a structure, it can also add to its resale value.
Drawbacks of Tile Roofs
Obviously, the biggest drawback is its initial installation cost. When compared to asphalt shingles or even basic metal roofing, tile roofs can cost several times as much to put up. They are, however, similar in price to slate roofing–the only other kind of material that can hold up as long or surpass the life expectancy of tile. Additionally, tile roofs (and slate roofs, as well) are not only heavy, but brittle. Not only might they require added structural reinforcement to install, but when a problem does occur, they can be difficult to work on since the individual tiles can break under the weight of a worker.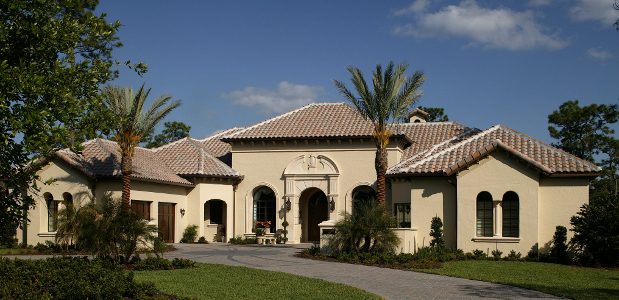 The Good and Bad of Tile Roofing
Benefits of Tile Roofing
Overall, tile roofing is a popular choice due to its durability, protection and ventilation factors, energy savings, and long-lasting performance. Additional benefits include the following:
Longevity – the lifespan of a properly installed tile roof by a professional roofing contractor can range from 50 to 100 years giving it a significant advantage over a less expensive material such as asphalt.
Durability – tiles have a high capacity for enduring sustained winds, they are not susceptible to biting or chewing insects, and tiles are non-combustible.
Curbside appeal – tiles are available in a variety of colors, sizes, and shapes. They are designed to complement all types of architectural styles and blend with any exterior paint color.
Concrete or clay tile – whichever type of material is selected, tiles not only retain their color, they are one of the easiest roofing materials to install. Tile roofs also require minimal maintenance.
Increased property value – because the material is energy efficient and can be recycled, the home is considered "green" which increases the property's value.
Marketing – a home with a tile roof can be marketed with a focus on potential buyers interested in an environmentally friendly property.
Selling -.for potential buyers, a home with a tile roof is an investment that saves the out-of-pocket expense of a new roof due to the lifespan of tile.
Energy savings – air flows naturally beneath the tiles resulting in a well-ventilated home that is warmer during winter cold snaps and cooler during the heat of summer. Because of the natural ventilation, monthly energy bills are lower.
Negatives of Tile Roofing
Of the many roofing materials, such as asphalt shingles, wood shakes, slate, rubber, metal and tile, the cost per square foot varies considerably based on the material itself as well as the region where the home is located.
Costly – the estimated cost of clay tiles ranges between $11 per square foot or over $15 per square foot. Concrete tiles are generally less expensive. Find the cost of a tile roof using an online roofing calculator based on the home's square footage and zip code.
Installation – while tile is one of the easiest materials to install, the project requires the expertise of a licensed and bonded roofer experienced in cutting and installing tiles.
Structurally sound – if the current roofing material is not tile, the home will need to be inspected to determine if it can bear the weight of the tiles, or if support beams must be installed. In some cases, a tile roof may not be an option.
Quality material – a tile roof can outlast standard underlayment, screws, nails, flashing and fasteners. This means the contractor should use only those materials that also have a long lifespan, which could increase the cost of the new roof.
Replacement and repair – should the flashing or underlayment deteriorate, depending on the extent and severity of the damage, it's possible all the tiles would need to be removed.
Damage – tiles are sturdy but can be broken especially by someone accessing the roof who is not skilled at walking on the material, Broken tiles need to be repaired by a professional roofer to avoid additional damage to the roof.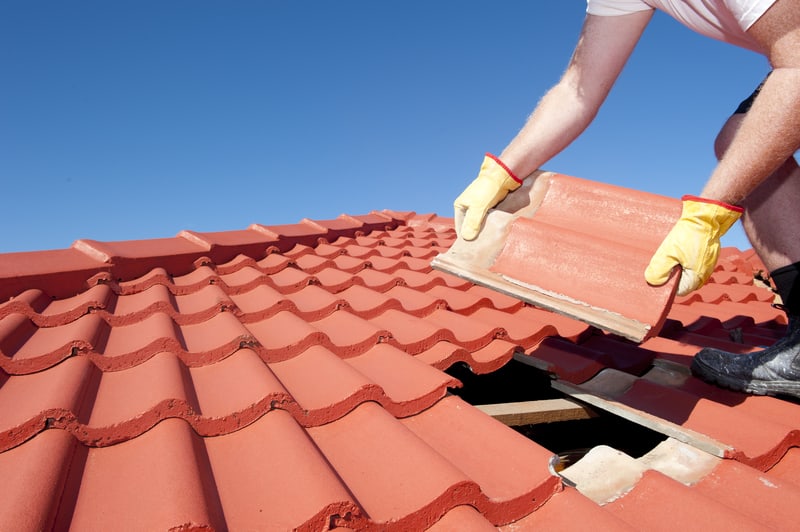 Types of Tile Roof Repairs
Shingles
There are 2 main types of asphalt shingles Architectural or Dimensional which are a premium grade of asphalt shingle roofing.These shingles are thicker and have a distinctive, textured appearance.  Then there are "3-tab" shingles named that for the 3 tab flaps with quarter-inch grooves between them in each panel Both styles of shingle are available in several different colors, With proper maintenance, your shingle roof can last for 20 years or longer.
The most common signs that your shingles are in need of repair is leakage in the roof and cracked or curling shingle. Repairing a leak or replacing damaged or missing shingles is not an easy task and should be done by a professional. One wrong step could have devastating effects on your financial and physical health. Call AABCO Roofing to take care of all your roofing needs
Concrete Roof Tiles
When it comes to durability, concrete roof tiles outweigh its competitors. This form of tiling can provide excellent protection against the harshest environments including wind and hail – while showing minimal to no sign of damage. With the correct maintenance, concrete roof tiles can last up to 50 years. Concrete roof tiles require minimal maintenance – in the case of damage, only the affected area of tiling need be replaced not the entire roof.This makes concrete tile an economical option for any home owner.
Repairing concrete roof tiles can appear to be a simple Saturday afternoon DIY project but doing so can cost you more than just time and money. Tiles need to be removed to get to expose and repair the leak. Removing tiles incorrectly can result in more damage to your roofs underlayment as well as badly broken tiles and broken concrete roof tiles cannot simply be glued together. A repair requires physically climbing onto the roof and repairing or replacing the damaged area. Always consult a professional roofer like AABCO Roofing to prevent further damage to your roof or worse, an injury to yourself.
Clay Roof Tiles
Clay tiles are significantly lighter than cement tiles. The tiles can provide sufficient protection against the elements as they are resistant to heat, water, and fire. Clay tiles are unique in that they are eco-friendly yet durable enough to stand the test of time and can last for decades without need of roof replacement.
Repairing small cracks to clay roof tiles is not as easy as many home owners think. Small repairs require the cracked area to be scrubbed with a wire brush and then filled with a plastic roofing cement or solution to seal the area. Doing so requires precision and knowledge of the type of repair required. Clay tile roof leaks require a skilled roofer to identify the leaking area, this is a task that should be left to the professionals as the source of the leak could be from a membrane beneath the tile.When you hire a professional roofer, you can rest assured that you will be receiving expert advice and that a small repair will not result in a bigger one. A professional will start by assessing your roof and can provide a comprehensive plan to repair your clay roof tiles.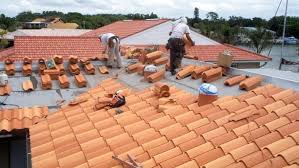 HOW LONG DOES A TILE ROOF LAST?
A tile roof built using today's standards and guidelines should last a minimum of 15 years with most lasting up to 30 Years. There are a lot of determining factors how long do tile roofs last in Arizonasuch as environmental and what underlayment is used. Phoenix has a unique climate and you need to make sure the underlayment you choose will stand up to the heat and the rapid temperature changes we experience during the summer Monsoons. Another important factor is pests such as birds. Nothing will ruin your roof faster than the acid in bird droppings. The best advice I can give a homeowner is the moment you see birds nesting on your roof, you should get them off as quickly as possible before they nest and consider your roof their home. If you have a bird problem already, call in a bird removal expert – they cost a lot less than a new roof.
Roof debris is another item that will shorten the life span of your roofing system. Keep trees and leaves off of your roof. Roofs are designed for water to flow down and off quickly. how long do roof tiles lastDebris, especially in the valleys, can prevent water from flowing and create a water dam. Water dams can allow water to back up and flow under the roof system, causing a leak. See Nut's and Bolts of a tile roof for more information. If you use a quality underlayment, and keep your roof clean from pests, debris and tree limbs, your roof could very well last 40 years or more before it needs to be replaced again.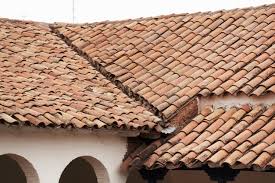 Why You Have a Tile Roof Leak
Tile roofs are used in every weather climate around the world, are the oldest and most popular roofs lasting 25 – 50 years, depending on which way they are installed. Most roofs have flashings designed to keep water on top of the tiles, relying on the underlayment only as secondary protection and lasting 50 years.
In Florida, more than 90% of tile roofs do not have flashings, allowing water to run under the tiles and counting solely on the underlayment to keep the building dry. Water running under the tile will break down the underlayment and shorten its life by cracking and deteriorating, eventually allowing leaking. That's why tile roofs in Florida start having leaks at year 5 and are replaced at year 25.