The Ultimate House Cleaning Guide
Whether you clean your own home on a regular basis, or clean others' for a living, you can understand when we say it is a dirty job! Dirt, dust, spills, and grime, there are a lot of different messes you encounter when cleaning a home. The best advice from any house cleaning expert is to pick-up and put away on a regular basis. This means divide your housework into daily, weekly, and monthly tasks. That way your cleaning to-do list is more manageable.
Daily Tasks
The first thing most people do in the morning after getting dressed is make their bed. It may seem like an insignificant thing to do, but it really helps to give your home that neat and organized feeling.
From there, tackle the kitchen. This can range from emptying the dishwasher, putting away breakfast bowls, cereal boxes, and plates, to wiping down countertops, the kitchen table and take out the garbage. No one wants to come home after a day of school or work to find more work in terms of a dirty or stinky kitchen!
Once the kitchen has been dealt with, don't overlook the bathroom after you've used it in the morning. This might include wiping the countertops, putting away hair and toothbrushes, and making sure towels are hung up. All of these are small steps that go a long way to helping you keep your home clean.
Weekly Tasks
Start with dusting all of the surfaces in your home. Vacuum all of your rugs, sweep your hardwood or tile floors and then finish up by mopping them. Change and launder all bed sheets, duvet and pillow covers; wash bath mats, towels, or any other floor coverings. Clean out your refrigerator and your freezer, discarding anything that is no longer edible. Wipe down your toaster over, the inside of your microwave, and oven (some ovens have the self-cleaning option); not to mention clean your stovetop as well. Scrub your bathtub, sinks and toilets to make sure they're spotless. Fluff and rotate pillows on your sofa or other seating areas. Sort through the pile of paper work that is sitting by your bedside on in your study, remember if you don't do it now it won't get any smaller by itself. And don't forget to clean all the hand and animal paw prints from the windows, mirrors and other glass surfaces.
Should I have the house cleaner in my home? What about the plumber? Here's what the experts say
Is there a risk to having people in your home, such as house cleaners and plumbers?
Answer: Yes. Every time another person comes within 6 feet there is a risk of transmission, and that's why our experts recommend that you factor in the possible risk when deciding who should come to the home.
Process:
In an attempt to "flatten the curve," people across the globe are attempting to practice social distancing. This has prompted questions online about who should be allowed to come to the home. "Is it safe to have your house cleaned by outside workers," asked on person in an email to the Verify Team. And of course, it's not just house-cleaners. What about the plumber or the electrician? The Verify Team turned to the experts to get a feel for the possible risk.
The Centers For Disease Control and Prevention did not offer a clear-cut yes or no answer. Instead, they offered guidelines that all people should follow. The CDC said special precautions should be taken by those who are older, or have an underlining health issue. "(They should) prohibit visitors who do not have an essential need to be in the home." Meanwhile, the CDC said everyone else should also practice social distancing by limiting "close contact with others as much as possible."
agreed that people should take the risk seriously. "In general, not having people in your house who are not essential would be my recommendation," he said. Price said that he made the decision to tell the housekeeper not to come this week for this reason.
The Verify Team also reached out to the American Association of Cleaning Professionals. A spokesperson said that they are recommending work as normal, although recommending that cleaners wear gloves and face masks.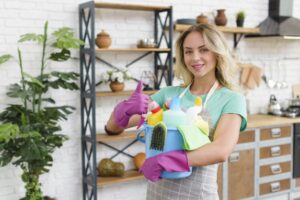 How to clean a hotel room – A guide for housekeepers and travellers
First rule of hotel housekeeping
Every respectful hotel cleaner will knock and announce themselves ( say HOUSEKEEPING) at least twice before unlocking a guest's door and then again upon entry. As a traveller, if you do not want housekeeping staff to knock on your door, hang the DO NOT DISTURB sign on the outside door handle.
Hotel cleaning: a step-by-step guide
To keep things simple, here's a numbered list of steps to take when cleaning a hotel room. If you're a hotel guest, you can use this as a guide to know what should have been cleaned before you checked in.
Clean a hotel room bedroom
Strip the beds of all sheets and pillowcases. Inspect mattress and pillow protectors; blankets and quilts for stains. Change when necessary. Sorry travellers but these items are not changed between each guest (I wish they were).
Make the bed by laying the bottom sheet over the mattress. Tuck the sheet at the top end of the bed only. This will secure the sheet so it does not "come loose" when the guest is in bed. Next, lay down the top sheet. Lay down the blanket. If the triple sheet method if used, apply that over top of everything. Now, tuck the sheets and the blanket all together on 3 sides of the bed, with hospital corners at the bottom. There is NO need to round that bed more than once or twice. Smooth the quilt, duvet, doona, whatever is being used on top, over the bed and make it look nice and neat. Stand fluffed, freshly covered pillows at the head of the bed. Apply bed accessories (footers and throw pillows) as per hotel decor.
Empty the rubbish bins. If there is dry garbage only, use gloved hands to remove and save a plastic bag. Use discretion here.
Dust all furniture and picture frames with a slightly damp, clean cloth.
Wipe baseboards and spot clean walls if needed.
Check balcony for rubbish and lock sliding glass door.
Sanitise the TV remote and telephone with the supplied cleaning product on a dry cloth. Do the same with the fridge, if the room has one.
Spot clean bedroom mirror and windows. Full window cleaning is usually done monthly or seasonally.
Replenish all guest room amenities: tissues, stationery, coffee, tea, sugar and milk.
Wash glasses and coffee mugs in the bathroom with hot water and soap. Dry with a clean tea towel.
Check all drawers and wardrobes for items that may have been left behind. Push hangers to one side of the closet. Check extra pillows and blankets for use and neatness.
Vacuum the floor, including under the bed(s).
I personally don't believe that strong chemicals are needed throughout the bathroom but for simplicity, I will go with standard hotel practice here.
Remove all used towels.
Discard all used soap, shampoo and lotion.
Empty the bin.
Check toilet paper levels. If less than 1/3 left on the roll, replace with a new roll and fold to make a neat triangle. Keep the unused roll for use in hotel staff bathrooms. Be sure there is a spare roll in the bathroom too.
Clean the mirror with clean water. Dry with a streak-free micro-fibre cloth. Enjo is best if you have it.
Spray the sink, bathtub, shower and toilet with supplied cleaner. Go light. Chemicals are harsh on skin, lungs and the environment.
Use a clean, wet cloth to wipe (and scrub if necessary) the sink, bench-tops, bathtub and shower tiles. Check shower grout for mould. Rinse excess cleaner, then dry all surfaces with a clean, dry cloth/rag.
Do the same with the toilet, inside and out. Any cloth used on the toilet must not be used on any other surfaces.
Wipe down bathroom walls when soiled or splashed.
Fold clean towels and bathmat to the hotel's standards and place either in the bathroom or on the beds.
Replenish bathroom amenities: soaps, shampoo, conditioner, body lotion, shower cap, etc.
Scan the bathroom surfaces for hair. Be sure to remove any stray hairs you may have missed during cleaning.
Wipe the floor tiles with a damp cloth. Mops just spread dirty water and bacteria around. They should not be used.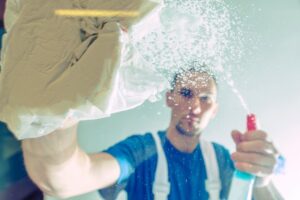 How Much Does House Cleaning Service Cost?
The standard house cleaning cost per hour can be around $30 to $40. For a 180m2 home with two bedrooms and one bathroom, expect to pay around $240. Prices vary depending on your location and other inclusions to add. Some home cleaners charge on an hourly basis. Others provide fixed rates for services which may take longer to complete. For instance, end of lease cleaning may cost tenants around $250 (two-bedroom unit).
Paying for a home cleaning service gives you more time for leisure and other important activities. It pays to know how professional cleaners charge and for what type of cleaning jobs the cost may fluctuate to help you manage your finances.
Labour Rates for House Cleaners
Most home cleaners charge an hourly rate of around $30 to $40. Prices differ based on the demand for professional house cleaning jobs and other factors.
What are the Factors that Affect House Cleaning Prices?
Size of your home
The size of your home largely affects how you will be charged. Some home cleaners measure their rates per room or square metre depending on the requirements. For example, cleaning a one-bedroom unit with one bathroom can take two to three hours to complete. Homeowners with a double-storey residential property pay more due to the number of rooms to clean.
Location
Hiring a professional cleaner outside your vicinity may attract increased costs. Expect to pay extra fees for transportation and call outs. Consider the business location of your prospective house cleaner to keep you from incurring additional costs.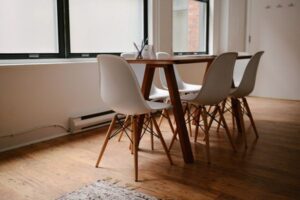 How to Clean Your Entire House in 45 Minutes
Your bachelor pad. Your family home. That apartment with all the architectural detail and the amazing view. Wherever you live, houses get messy. And they stay that way, until you clean them. When your plans to let someone inside ends up happening before your hopes of getting your home back to normal, then it's time to clean it. Quickly.
45:00 – Pick a music album (or playlist) you know and love.  Not Ramones-length short, but no double LPs here either. An average 12-14 song album that you can sing along to and not focus on. Your house will be clean by the time the secret bonus track comes on.
44:00 – Fill up the sink with hot soapy water. Or, if you have a dishwasher, make sure it's empty with the racks pulled out. You're gonna need somewhere to place all the  dirty plates and coffee mugs lying around all over the house.
42:00 – Start in the Bedroom.
Pick up all your laundry and put it in the hamper. Don't worry about emptying pockets or removing belts or turning socks right side out – just get it off the floor. If your hampers are overflowing, place items in laundry baskets and put them in the most hidden corner of your room.
Pick up any books and magazines and stack them neatly. Clean off dressers and side tables. Close all dresser drawers, making sure there's no little pieces of sock or t-shirt sticking out of the closure.
Make your bed like you mean it. Arrange pillows neatly.
38:00 – Begin the bathroom and kitchen. You can't make the whole thing spotless, so focus on the areas that need the most help. Use time and the power of the cleaners to your advantage.
Put your toiletries and daily use items away and where they belong. Hang up towels.
Then spray the hard surfaces with bathroom cleaner. Get the sink, faucet, outside of the toilet, and the bottom of the tub or shower. You can use the shower curtain or doors to your advantage. Just clean the outside. (Unless you know someone will be using it. Then spray away.)
Fill the toilet bowl with toilet cleaner, getting as high up as possible (that's where the real crud lives).
Spray cleanser on the kitchen surfaces: stovetop, counters, and any sticky spots on the floor.
32:00 – Tackle the Living Room.
Deal with the surfaces: clean off the coffee table, entertainment cabinet, side tables etc. Stack books and magazines and place remote on top.
Fold blankets, then smooth cushions and neatly arrange pillows. It sounds fussy, but it's amazing what a difference it will make.
Roll up any cables or cords, close and store your laptop, and turn on all lamps.
Embrace the stack. If you don't have time to put things where they belong, place them on top of each other from largest to smallest. It might not look like an display of objets d'art, but it'll look like you intentionally put them there. Which you did.