How To Prep Your Floor For An Epoxy Coating
So you've decided to get an epoxy flooring for your brewery. Now all you need to do is apply the epoxy flooring properly. While this is a simple task, there are several things that need to be done to guarantee your floor comes out just the way you envisioned it
BEFORE APPLYING EPOXY
The absolute first step before applying your epoxy coating, is to prep your floor. It is essential that you clean your floor thoroughly. If you're working on a concrete base, fill in any cracks or patch areas that need care before you start to clean. Once the damages, if any, have been repaired, it's time to clean. Be sure to catch any areas you might overlook while preparing your epoxy coat. Oil spots will need to be removed and the floor will need to be degreased. Your floor is cleaned properly and you will want to make sure you vacuum thoroughly to rid of any remaining dust and debris.
The biggest problem you will encounter when applying your epoxy coating, is to make sure the moisture and humidity are in the right conditions. Conducting a moisture test on your concrete base is a reliable way to make sure the epoxy flooring will be applied properly. This can be done cheaply and effectively by taping shut a plastic sheet to your floor. After a day or so, you'll notice if moisture has appeared or gathered underneath the plastic surface. If it has, you will need to apply a moisture blocking sealer. This is due to the fact that epoxy can be impossible to work with in high moisture conditions and will not guarantee a sealed floored. If the floor is not sealed properly then epoxy may not adhere causing the floor to bubble.
METHODS
There are three main methods for preparing your floor for epoxy work, so take your pick on which one will best suit your needs.
The first is acid etching.  This technique is the most D.I.Y. option, as other techniques require machinery or skill. And is best used for concrete bases. First you need to apply the acid solution to your floor. Once it is spread out evenly use a scrubber, a stiff bristle broom, or a similar tool to work the acid solution. Once that it's done, let the acid sit for up to 10 minutes, this will allow the process to take effect. Next you have to remove the spent acid. This can be done through power washing and then vacuuming once the floor has dried. Make sure to remove the residue before the acid dries. Finally you'll need to neutralize any remaining acid residue. Using a diluted solution of simple green will work well on most floors (approximately 4oz per gallon of water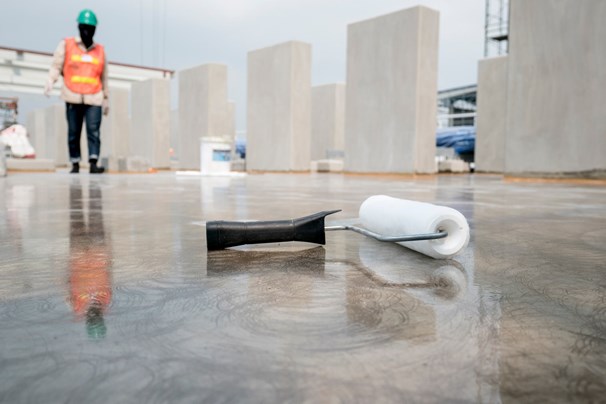 Tips for Maintaining Epoxy Flooring
I mop the epoxy flooring two or three times each year. Occasionally, I vacuum up debris with the shop vac, but everything else is just spot cleaning. It's not much work to have a floor that is visually attractive and welcomes guests. Compare that to most other garages that have stains, concrete wear, dusting and other issues. You get the picture.
Whether you have professional epoxy coatings for your garage, basement, porch, sunroom or pole barn, the maintenance and usage tips are usually the same
For minor spills or vehicle drippings, simply wipe them up with a paper towel or other soft cloth.
Routine maintenance cleaning is best achieved with either a soft bristle broom or a blue commercial dust mop (available at any home improvement store).
For heavy cleaning of a soiled epoxy floor, sweep away any loose debris and then mop floor with a hard foam mop, hot water and clear ammonia. Four to five ounces of ammonia per gallon of water is all that is needed to adequately remove soiling
Some winter road "pre-treatment" compounds leave a hazy film on epoxy floor coatings after cleaning. This can normally be removed with hot water and a deck brush (found at most hardware stores). Continuous rinsing may be required to keep the compounds from drying onto new areas of the floor.
What is epoxy flooring?
Epoxy coating is a mix of polymer resins and hardeners. When applied to concrete flooring, epoxy creates a smooth, shiny surface that brightens the space. The durable and visually stunning finish makes it suitable for most residential and commercial applications
If you're looking for suitable flooring types for your home, epoxy flooring should be high on your list. It's impervious to most chemicals and has antimicrobial properties. It can also mimic the elegant feel of marble while maintaining the hardiness of concrete
Understanding epoxy floor coatings
Epoxy coating can be roughly divided into three types: solvent-based, water-based and 100% solid epoxy. More recently, you can find pre-tinted or metallic coatings, as well.
Solvent-based epoxy is the oldest type. It's a mix of resin with a high concentration of solvent-based hardener. When left to evaporate after application, mixed resin and hardener generate toxic vapours, such as ammonia and carbon monoxide. To protect yourself from the fumes, wear a respirator during and after application
Next, you have water-based epoxy. It produces the same glossy finish as solvent-based epoxy but is soluble in water, so there's no need for solvent hardener. It doesn't leave harmful fumes but creates a sturdy, non-toxic, waterproof surface.
Epoxy floor paint tips and tricks that can save time and money
Over the past 40 years of installing epoxy and urethane floor seals and coatings on Fortune 500 company concrete floors, as well as basements, garages, and decks, a few tricks have been learned. These tricks can help you avoid making mistakes that can limit the life of your floors and require re-coating or repair.
Plan the job. Save trips to the store and costly delays by getting everything you need ready before the job starts. One quick step would be to go to a website like www.concrete-floor-coatings.com/costanalysis.aspx for a free cost analysis which will list everything you need to do your job including step-by-step instructions.
Stick your coating to something that is not going to move. Remember that a floor that has 3,000 lb. or more going over it every day needs much better adhesion than a wall that may get brushed by an elbow occasionally. Stick your coating to something that is not going to move.
The better the tools the less work you have to do. Renting power scrubbers, walk-behind vacuums, double-bladed squeegees, and long-handled scrapers are all multipliers that reduce your work and increase your performance. You can do without lots of fancy tools but you could end up stopping your project earlier than you should because its just too much work
Some things must be abraded off. Gum, adhesive, asphalt, some paints, concrete splatters, silicone sprays from Rain X or tire shine are just some of the things that you may need to scrape or grind off by hand when doing a floor job.
Getting Creative with Epoxy Floor Coatings
Getting Creative with Epoxy Floor Coatings It is no secret that we all want our homes, businesses, and garages to reflect our unique styles and personalities! Epoxy coatings allow many of us to transform our standard home and business floors into areas that leave people wanting more! The best part about these coatings is the fact that they resist all types of common and uncommon damages, so your floors will continue to be beautiful and unique for years to come. Modern Epoxy Floors Excite People With resin floors, you can install a
Must Haves For Millennial Home Buyers Finally, we are starting to see the general population of Millenials starting to take the first big leap into becoming adults, home buying. But, in the current market, the homes we love are out of our price range so its time to start thinking about what we need in our beginner homes to make the push to a bright future as easy and comfortable as possible. We get it, there hasn't been much knowledge from many sources about what you should look for in your home and possibly what you can
Pool Safety Tips For Your Family This Summer Now that summer has started, it may be settling in that you need to make sure that you and everyone using your pool are as safe as possible so you can kick back and enjoy your pool this year. Pool safety is one of the biggest factors that should play a role in your home every summer. Did you know that between 2005-1024 alone there was a total of 3,536 unintentional deaths that were pool-related? That is relative to about 10 deaths a day from backyard pools alone! With
Industrial Concrete Has Become A Trendy Decor Element Do you wish that there was a way to get the modern industrialized look into your home without having to spend thousands of specialized metal trims, industrial banisters or light fixtures? Well, even though industrial is the going trend, there is a way to get the industrial look with a price tag that looks even better than the look itself, concrete. No matter what is going on in the interior design cliche, concrete is always going to be affordable on any budget and is the easiest way possible to
The Correct Way To Resurface A Concrete Floor Has your concrete floor seen better days? Cracks, gouges, and stains can put a massive damped on the curb appeal and even the performance of your concrete flooring system. Where the adverse effects of aged and working-class concrete can have you scrambling for your local concrete contractor to plan the replacement of the entire slab, we think you should hold off until you read about a time and money-saving process known as concrete resurfacing. We get it, not many people are knowledgeable in working with concrete and that is