What makes for the best engineered wood flooring?
Wear Layer
A quality engineered wood flooring is constructed of multiple layers that are stacked in a cross structure. It is this structure that gives the best engineered wood flooring its strength and durability. The top layer of the board is commonly known as the 'Wear layer' and is 100% solid hardwood. You can find some cheaper ranges where this layer is made up of a number of strips of wood. However if you are looking for a traditional and quality looking board then we would suggest choosing a 'single strip' wear layer which is made up of one section of timber. When comparing boards, you will see that the wear layer differs in thickness between ranges. The thicker the wear layer the more times the board can be sanded back in years to come and the longer the life expectancy.
Under-core
The under-core is the term used for what lies beneath the oak and although it's something you are never going to see, it is still one of the most important factors to consider in identifying the best engineered wood flooring. This is the part of the board that determines how stable the engineered wood floorboard is. Under-cores can vary in quality but a high quality board will have what is known as a multi-laminate hardwood ply. Plywood is used extensively in the building trade and is well known for its strength and stability due to its cross layered construction. Many cheaper engineered wood flooring ranges are made up of a 'block board' type under-core (only 1 or 2 layers). This type of engineered board is slightly cheaper but is certainly not as stable and reliable as a multi-laminate ply. Choosing a good quality under-core is particularly important if you intend to install or have installed an underfloor heating system, or are laying the boards in an area that is prone to changes in heat or humidity. Choose a board with a plywood core as their strong cross-layered structure will make the boards far less prone to swelling or shrinking.
Dimensions
Engineered wood floor boards come in a wide range of lengths and widths, all of which create different effects when fitted. There is neither 'right' nor 'wrong' when choosing a board with the dimensions that will suit your property, it is purely personal preference. However there are a couple of factors worth considering. Shorter and narrower floorboards are always cheaper to purchase and can often be a way in which to save money without cutting back on the overall quality of the board itself. Some also consider a narrower shorter board to have a more traditional and less contemporary feel to them and therefore can be more suited to certain types of property. However this again is very much down to personal tastes.
Maintenance
If you use a high quality treatment such as Treatex hardwax oil your floor will be much easier to maintain and look after. This high quality, tried and tested product will not only help to protect the boards from scratches, scuffs and stains, it will also enhance the natural features of your real wood flooring – making even the best engineered wood flooring look even better. Real wood will naturally fall victim to scuffs and scratches and nothing can prevent this 100%, but Treatex have a number of maintenance products to help you replenish any imperfections that may be caused to your floor over the years.

Why Engineered Hardwood Flooring is a Smart Choice
Engineered wood flooring is designed for greater structural stability and stands up better than other types of flooring.
Some of the other reasons that make engineered wood flooring at top choice include:
Their ability to remain stable and flexible enough to be used on top of concrete/radiant floor heating.
Easier installation process
Ability to get wider planks which means fewer joints across your floor
A more environmentally sustainable
Typically, less expensive than solid planks
Engineered flooring will range in thickness. The top layer will be your desired wood. When you choose engineered flooring with a top layer between two and six millimeters in thickness, you have the option to refinish it as desired. So, when you are searching for an engineered wood floor, it is a good idea to find out how it's made, in addition to how the top layer will look in your space. For the best results, you want a high-quality engineered hardwood flooring with a thicker top layer that allows you to refinish the wood to match your design requirements.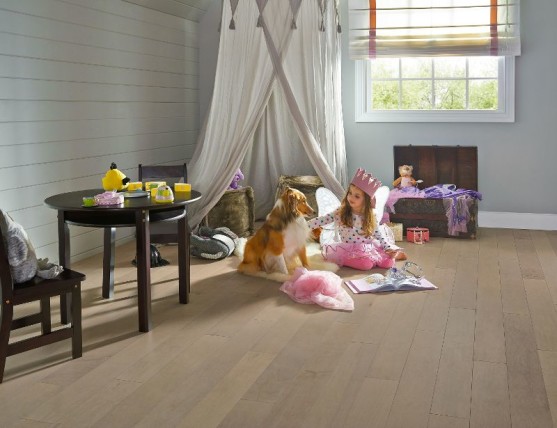 Shiny and subdued finishes
Like traditional hardwood floors, engineered floors rely on a hardwood finish to seal the wood and to increase its lifespan. Since almost all engineered hardwood flooring comes prefinished, you'll want to make sure the type you choose best fits your décor.
If you're already thinking ahead to your next home renovation, engineered hardwood flooring can withstand a few rounds of sanding, restaining, and refinishing. This type of flooring isn't designed for endless renovations, however, and options with thinner wear layers might only be able to handle one round of refinishing.
High Gloss: The shiniest type of finish, glossy floors give your space some serious shine. If you're designing to impress, like to keep your interior clean, and don't expect significant wear, a glossy floor is a smart choice in a living room, family room, or bedroom. 
Matte: This finish might not have the sparkle of glossy floors, but the finish surface works well for hiding scratches. If your household includes kids, dogs, or both, matte-finish floors make a great choice in any room.
Semi-Gloss: The perfect balance between the two, semi-gloss finish has enough shine to look attractive, but not too much that the floor will require refinishing often.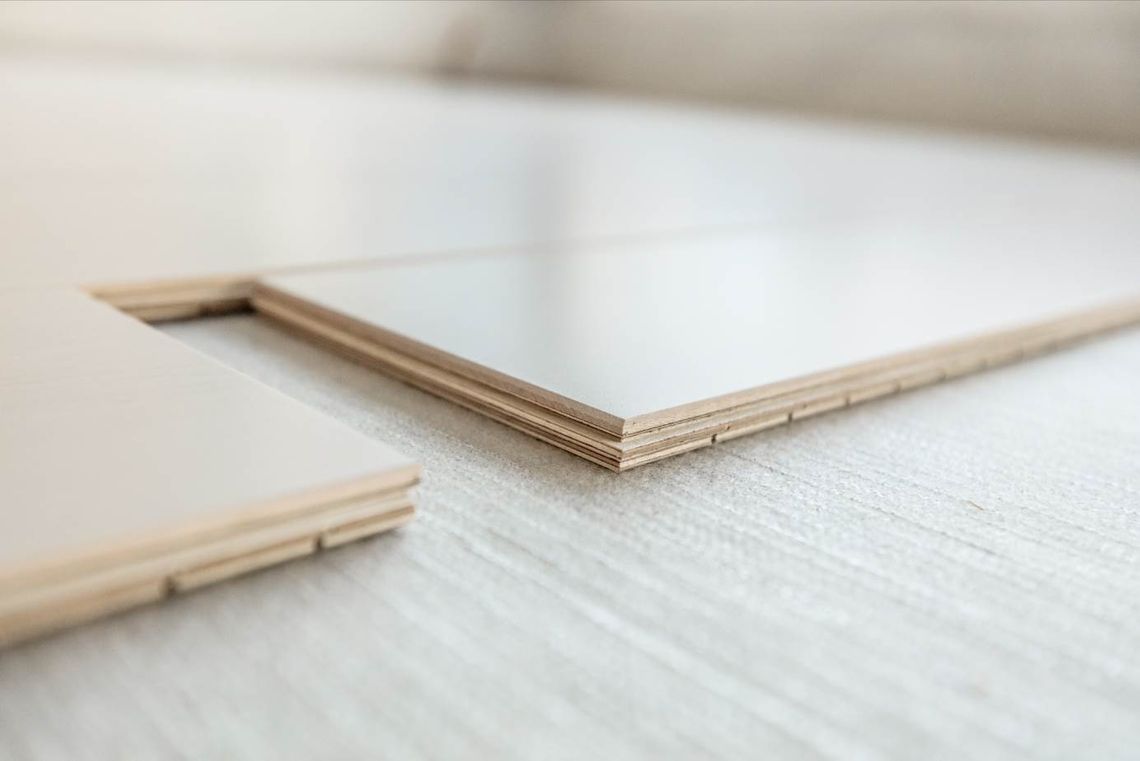 HOW TO SELECT ENGINEERED HARDWOOD FLOORING?
Here are some features that you need to know before choosing an engineered wood floor that will complement your home style and décor:
Type of Wood
Engineered wood offers plenty of choices. Some of the wood species you can select from are: Oak:It provides you with a reddish undertone and is the most stable among the wood flooring options. For average wear and tear, oak is a good choice; Maple:If you expect extensive foot traffic, maple is a good choice. Known for its durability and natural color, it works well in kitchens, mudrooms and other areas; Hickory:As this species resists moisture, it can be used in places such as kitchens, which experience temperature fluctuations and significant foot traffic.
Wood Thickness
Engineered hardwood floors differ in thickness. They usually have three layers that are cross-stacked, fixed and compressed together. High-quality flooring has several layers that are about three-quarters of an inch deep. Each layer serves a purpose. If you're contemplating a kitchen renovation, the wear layer or lamella is very important and has to be thick to match the refinished floors.
Core Layer
If you're looking for a flooring material which provides long term endurance and stability, choose the core layer wisely. Plywood offers comfort, durability and works best for most flooring needs. HDF is assembled with alternating layers of plywood, making it rigid and durable.
You can also add surface effects to your floors to enhance their texture.
Hand Scraped:These floors are scraped by hand or machine to give it a distinct look. Due to the heavy texturing, they're perfect for households with a lot of foot traffic.
Wire Brushed: Wire brushed provides you with a textured look without any heavier markings.
Smooth: Smooth surface effect gives a clean and sleek look. It does not go well with major foot traffic.
A Durable Choice
Engineered hardwood flooring is just as durable – and in some cases more durable – as solid hardwood flooring. Available in a wide range of wood species, finishes, and stains, you can find an engineered hardwood that meets your performance needs wherever you intend to install it, and no matter what your building's needs are. Consider installing engineered hardwoods in your office building or retail location to get a truly durable and exceptional flooring choice that meets all of your needs.