The importance of circuit breakers in the home
Many homes still use traditional fuses but they can be replaced with an essential safety feature called the circuit breaker. The main function of a circuit breaker is to detect any faulty condition in the electrical system and discontinue the flow of electricity to ensure safety. Many properties have been destroyed and lives lost due to short circuits that could have been aborted in time if there were circuit breakers
A short circuit can be defined as an abnormal low resistance current that is in between two nodes of an electrical circuit that is meant to have different voltages. When there is an excess flow of electric current, it can cause circuit damage that can lead to overheating and in some instances to an electrical fire. The main reason for short circuits is overloading but this can be avoided through circuit breakers that will detect the faulty condition. Generally, circuit breakers are more expensive than fuses but it is an investment that can protect your life and property.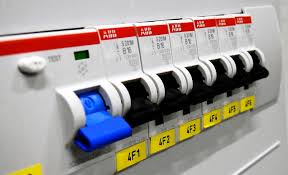 Types of Circuit Breaker and Its Importance
There is a broad range of circuit breakers available, which depend upon the voltage, installation, external design, placement, and breaking mechanism.
Here are the different types of circuit breakers:
Air Circuit Breakers operates in the air with their arcing contacts exposed. These arcing contacts quench at a given level of atmospheric pressure.  In a lot of countries, the air circuit breakers are generally replaced by oil circuit breakers.
Types of air circuit breakers:
1)Plain Air Circuit Breaker:
Plain Air circuit breakers are also called as Cross-Blast Circuit Breaker. These circuit breakers are fitted with a chamber( arc chute) which surrounds the contacts.
2)Air Blast Circuit Breaker:
These Circuit Breakers are used for a system voltage of 245 KV to 420 KV and more. Air Blast Circuit Breakers are generally of two types: Axial blast breaker and Axial blast with sliding moving contact.
Molded Case Circuit Breaker:
The traditional circuit breakers use electromechanical trip unit which may be either interchangeable or fixed. A molded case circuit breaker helps in providing support by bringing together a temperature-sensitive device with a current-sensitive electromagnetic device. Once the mechanism trips, both the circuit breakers start working automatically.
Miniature circuit breaker:
Unlike fuses, MCB protects light switches, equipments, circuits, etc. and operates as an automatic switch that opens or breaks the connection when the current flowing through the circuit is excessive. Once the circuit returns to normal, it can be reclosed without any manual replacement. MCBs have the ability to protect against fault arising due to overheating or increase in temperature. The construction of an MCB is such that, it has a bimetallic strip. It is a combination of both magnetic and thermal tripping mechanisms that are implemented in most of MCBs. This is designed to trip within 2.5 milliseconds when an overcurrent fault arises. In case of temperature rise or overheating it may take 2 seconds to 2 minutes for the MCB to trip.
Other than circuit breakers, a distribution management is also important because of the following benefits:
Enabling leading critical grid controlling capabilities
Optimising the dynamic grid functioning
Enhanced outage response
Thus, it is very important that circuit breakers are a component of every home to provide for a greater degree of protection.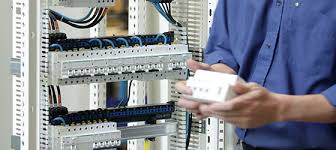 How to Calculate Amps, Volts and Watts
To start solving the problem, we need to know one simple "rule of thumb" formula. This formula will help us determine if all the electrical stuff on a particular circuit is overloading it. This formula also helps define some everyday terms and how they relate to one another. After all, light bulbs and space heaters are labeled in watts; tools and circuit breakers in amps; and our household electrical system in volts: How do they all fit together?
Voltage can most simply be described as the pressure under which electricity—a chain of electrons—moves. Most household current is pushed at 120 volts, though current to large electrical appliances is pushed at the higher pressure of 240 volts.
Amps (or amperes) is a measurement of the number of electrons the voltage pushes past a given point in
one second.
Watts is a unit of measurement for electrical power. It indicates how many electrons were pushed through an electric gadget to make it work. It's what the electric company bills you for.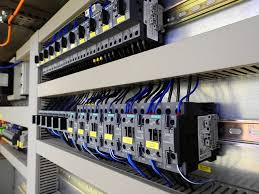 WHY ARE CIRCUIT BREAKERS SO IMPORTANT?
Considering the volatile nature of electricity, and the danger that it can pose on your property and health, safeguards are required throughout the circuit that prevent overloading and overheating. These essential electrical safety devices are known as circuit breakers. Basically, if an overload occurs within your home circuit, due to an increased demand for electricity, the circuit breaker or 'fuse box' is automatically triggered.
FUSES
Although surpassed by the circuit breaker, fuses are still found in many circuits and offer a line of defence against electrical overloads. When the circuit is operating effectively the fuse is an integral component of the electrical circuit and must be maintained for electricity to effectively flow. However, the fuse is designed to disintegrate when it heats up to a certain level, breaking the circuit and stopping the overflow of electricity before it damages your home. While this is an effective safety method, fuses are only able to be used once and must be replaced whenever they are put to work.
CIRCUIT BREAKERS
Circuit breakers on the other hand are able to be called upon numerous times when the current reaches dangerous levels. Circuit breakers incorporate a electromagnetic switch design which is triggered when the current increases to a volatile level. When an overload occurs, the increased current boosts the magnetic force of the switch and causes it to pull down the metal lever on the switch and cease to the flow of electricity to the house.
Circuit Breaker Tips
Knowing how to use a circuit breaker is important. The power may have been cut for a reason, so you want to be aware of potential overloads or electrical malfunctions. It's important to know which branch circuit each breaker is connected to, so you can identify whether too many devices are connected in, for example, your kitchen or living room.
If you're using the main breaker to shut off power to the whole house, switch off each individual breaker first, one at a time, and then flip the main circuit breaker off. To restore power, switch the main breaker on. Then reset each individual circuit breaker individually. Resetting them one at a time can avoid a sudden power surge.
Follow a similar procedure if the main circuit breaker trips. Whether this is due to a power surge, overload, or lightning strike, turn off all individual breakers so all circuits don't turn on as soon as the main breaker is reset. When you do reset the main breaker, stand to the side, turn your head, and preferably wear safety glasses to protect yourself from potential sparks or flashes. Then turn one each circuit one at a time.